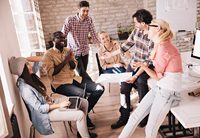 We want to understand the implications of megatrends such as technological breakthroughs, digitalization, climate change and others on our societies, in Switzerland, in Europe, and around the globe.
Given the global reach of digital technologies, we combine this with discussions on macro trends in economics, finance, politics and society.
We are dedicated to sharing knowledge and promoting research on these megatrends. We encourage diverse, innovative and open debates on the challenges and opportunities that such megatrends bring about, including discussions on public policies, private initiatives, and entrepreneurship.